1、Models present creations by Chinese designer Guo Pei in FIDe Fashion Week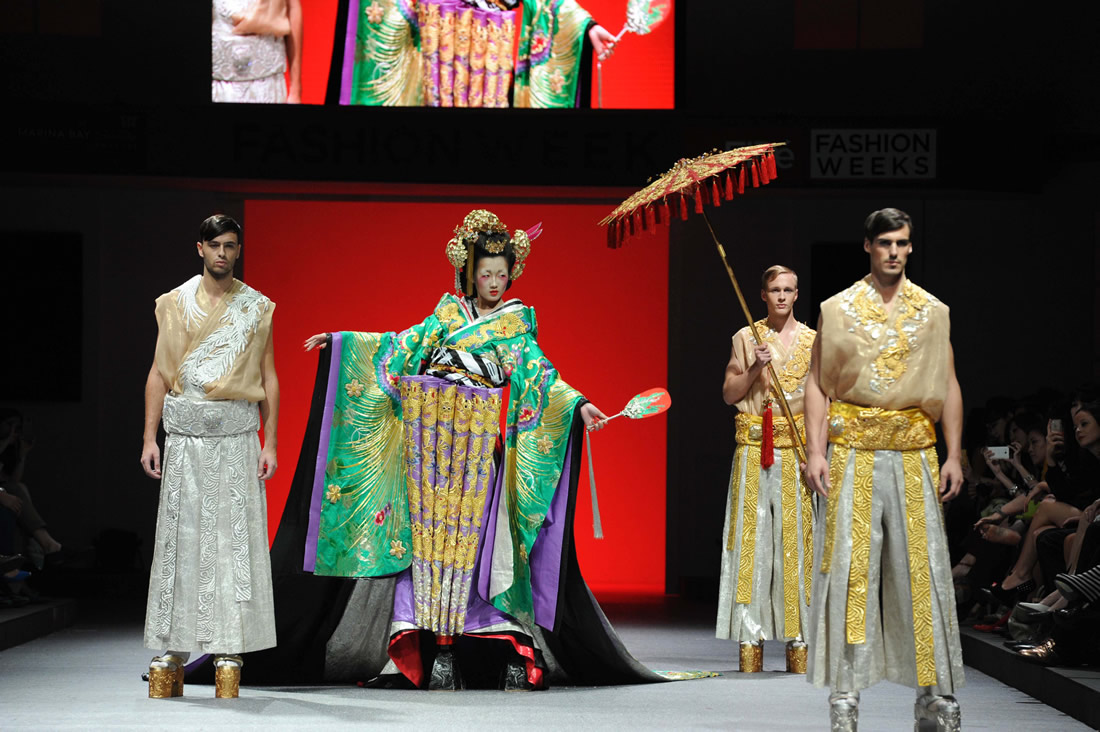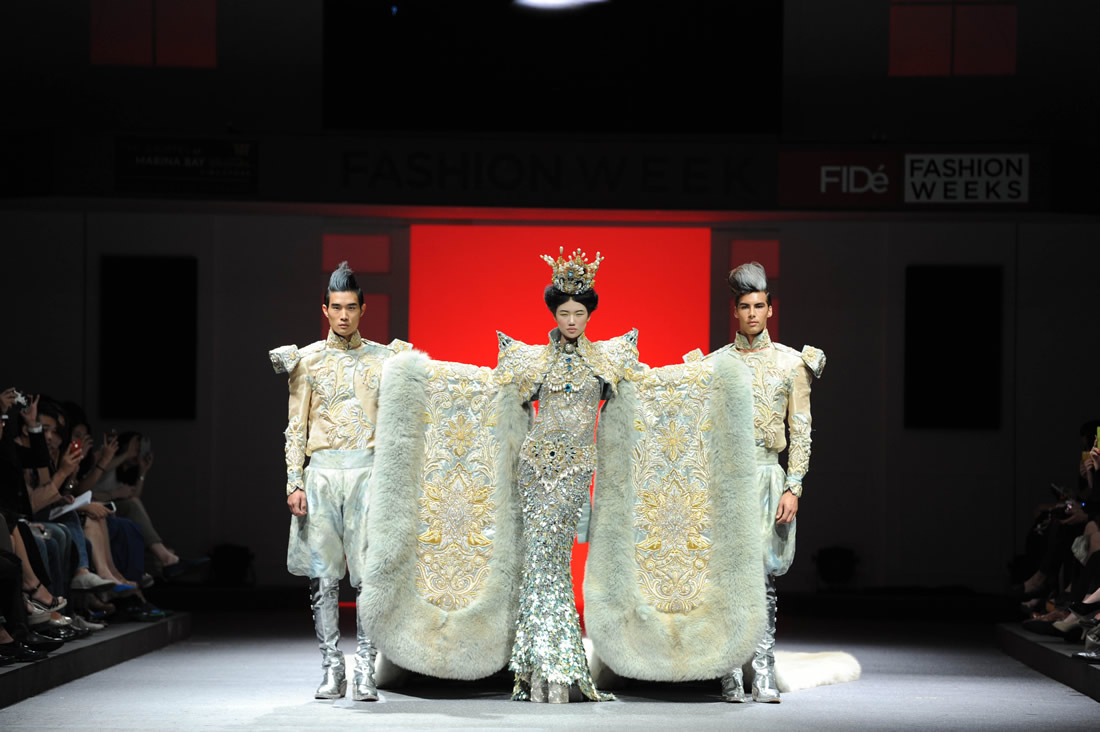 Models are silhouetted as they wear creations by Chinese fashion designer Guo Pei during the Fide Fashion Week 2013 Asian Couture show in Singapore, Wednesday, Oct. 16, 2013.
A model presents the latest creations by Chinese fashion designer Guo Pei during the FIDe Fashion Week in Singapore's Marina Bay Sands Expo, Oct. 16, 2013.
Chinese fashion designer Guo Pei (C) stands with her models as she acknowledges the audience during the FIDe Fashion Week in Singapore's Marina Bay Sands Expo, Oct. 16, 2013.
Guo Pei's Arabian 1002th Night: a theatrical & spellbinding spectacle
October 18, 2013 9:55 AM by Shi Tianyun
2、SEE PHOTOS:
Chinese couture designer Guo Pei unveiled a fantasy land where mystical creatures and royalty from ages past roamed in sky high platforms - welcome to the Arabian 1002th Night
One Thousand and One Nights have spawned many classic stories like those revolving around Aladdin and Sinbad and kept children entertained before bedtime for years. These tales have even enraptured grownups like Chinese couturier Guo Pei - forming the inspiration for her Arabian 1002th Night collection.
The Guo Pei show was the finale for the second Asian Couture night of Fashion Week 2013 and scheduled for 9pm. However, the designer's insistence for perfection - that extended to the hair and makeup of the models - led to a delay of more than 90 minutes. The wait had contributed to the heightened expectations of those present and in true Guo Pei fashion, the designer didn't disappoint. In fact, the venue was blown away by the heightened performance.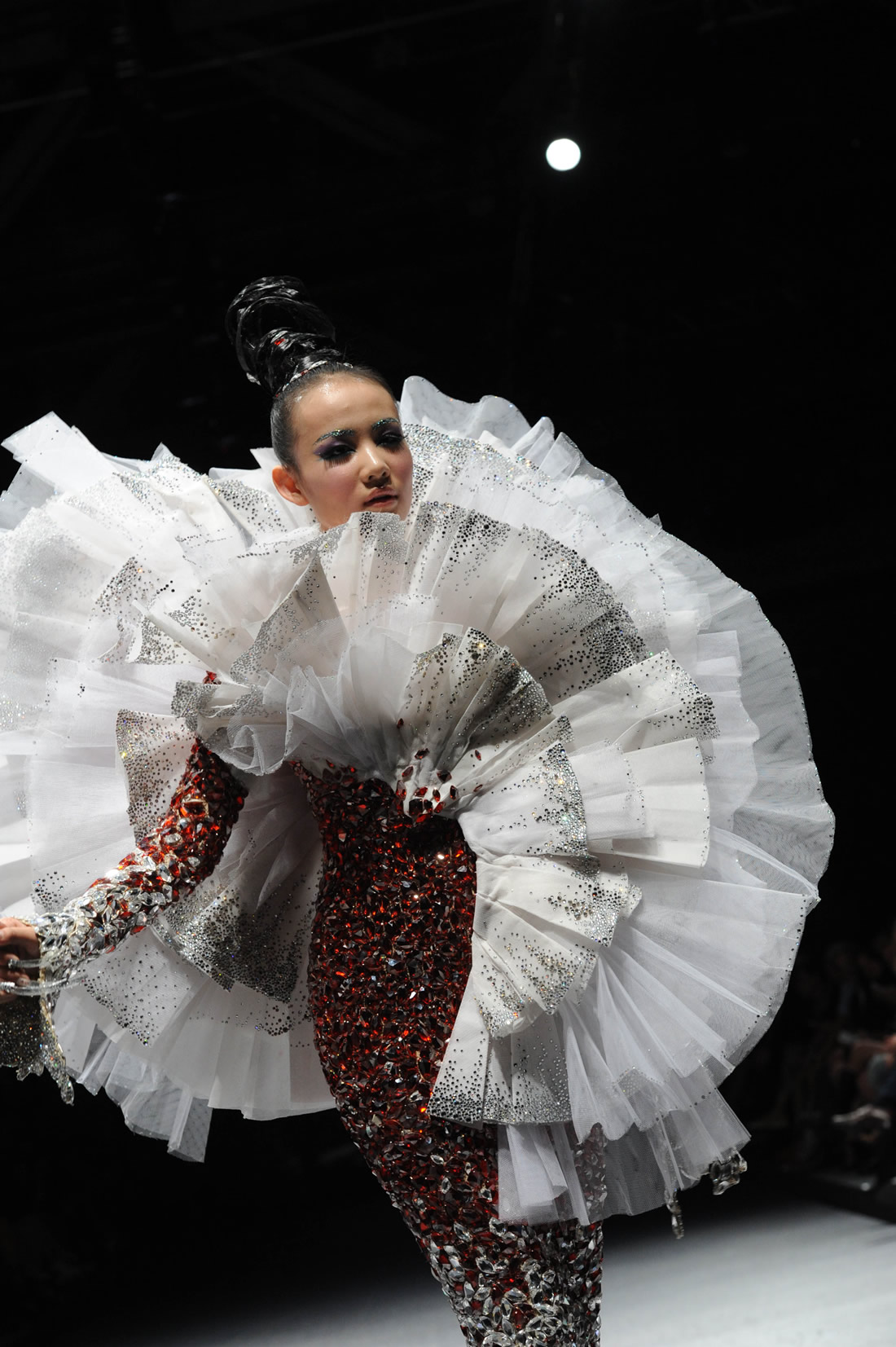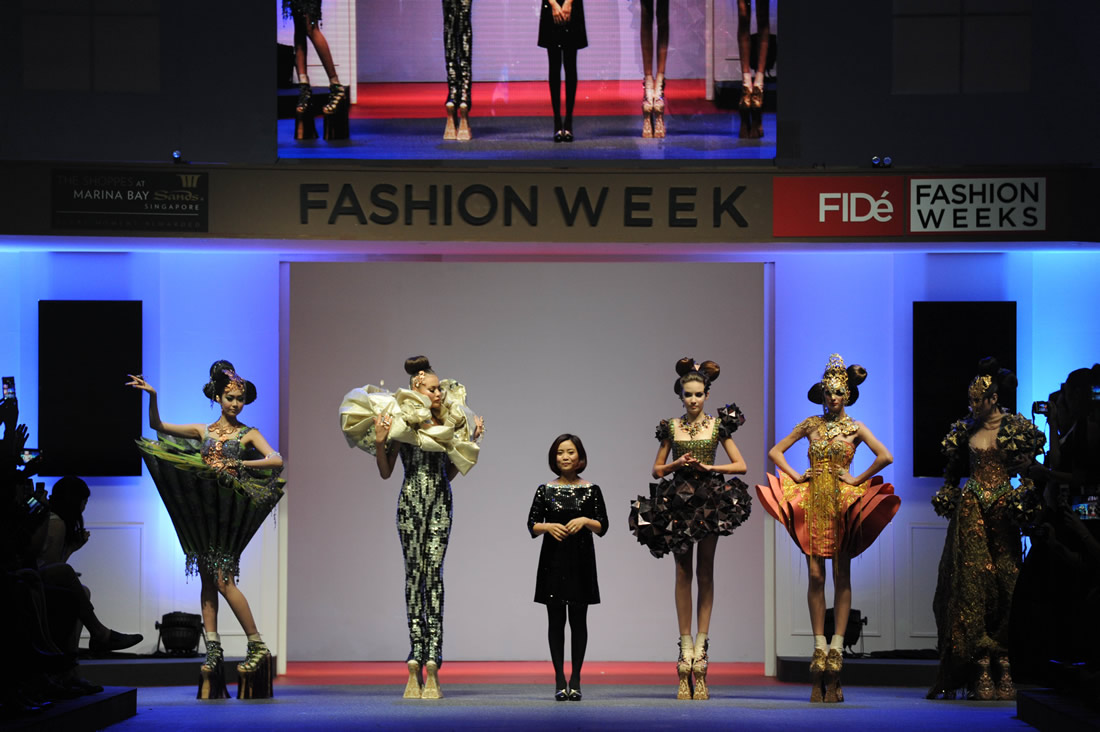 Some of the elaborate couture looks from Guo Pei's Arabian 1002th Night collection. Credit: Fide Fashion Weeks
Performance? Yes, we do mean performance. The Arabian 1002th Night unfolded like the fairy tale it was based on. A dramatic overture played as the first model was revealed - ornate gold appliques were hand-stitched onto the leotard and also a 3-D bolero that was made of many origami folds. Besides Arabic influence, some touches like the gold headpiece and necklace, and baroque pattern were distinctively Oriental and Western respectively. Yet this was a creature that lived in the future - the bolero could pass off as a jetpack and also the taller-than-six-inches platform shoes and flare leg of the leotard were something Ziggy Stardust would have wore.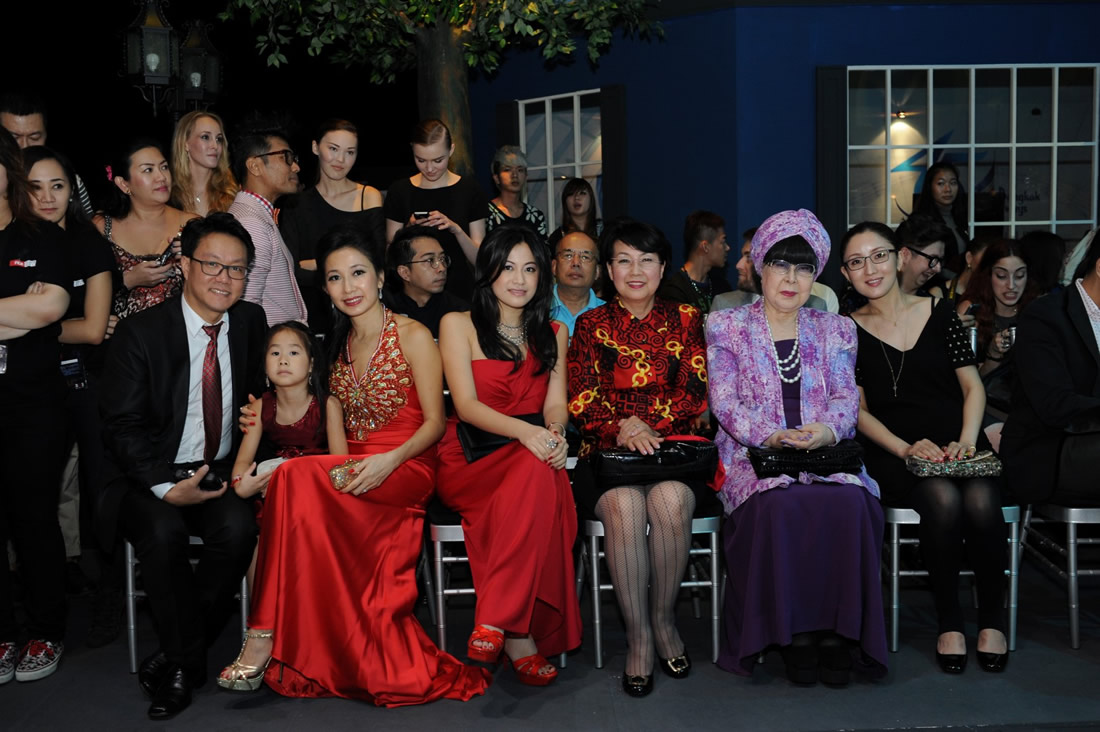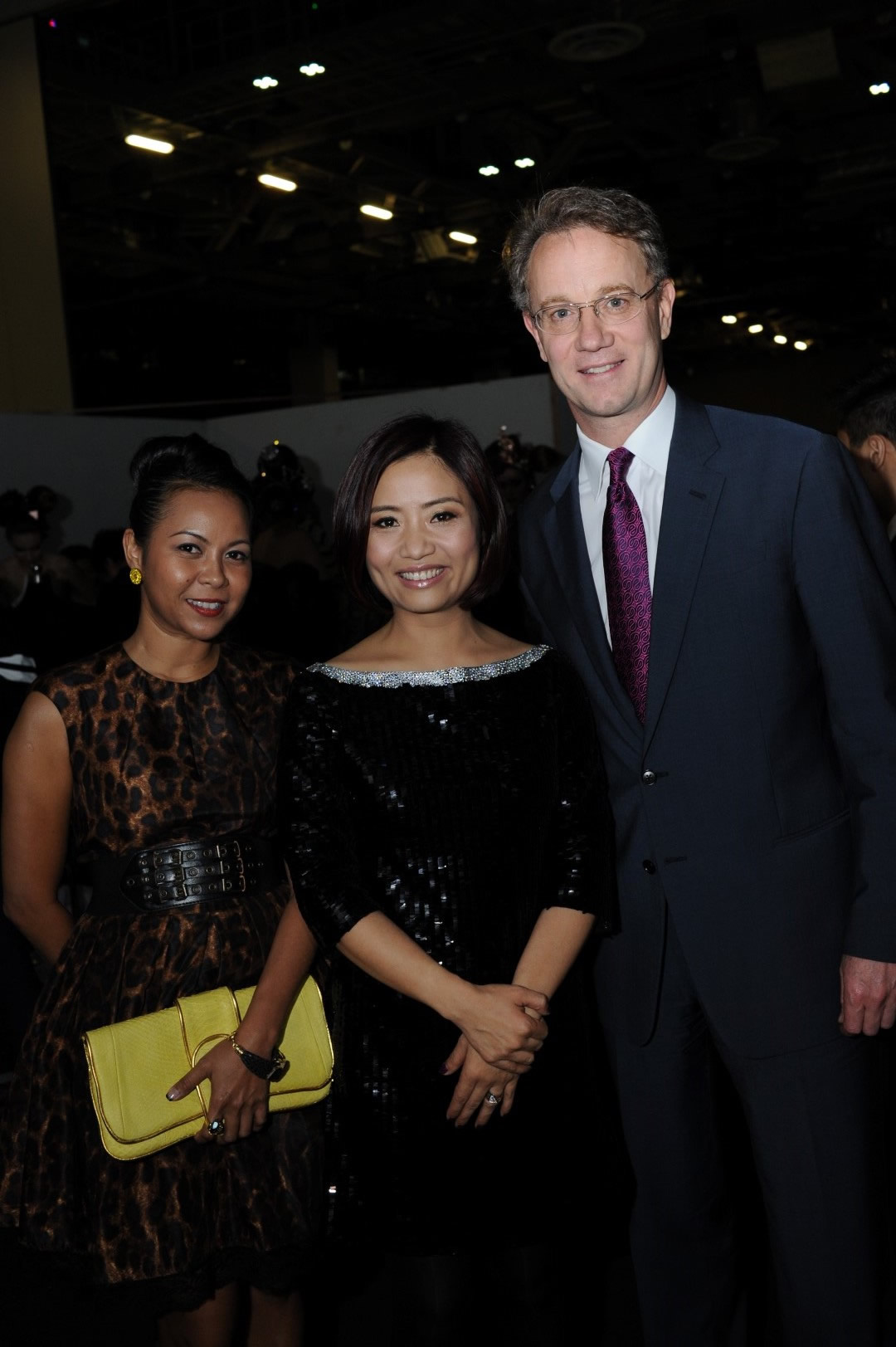 Impossibly high footwear from the Guo Pei show. Credit: Fide Fashion Weeks
Guo Pei had whisked her guests off to a faraway fantasy land. Each look was greeted with a collective gasp. Exaggerated harem pants; a lotus flower made of the same origami accordian folds seen in the first look; impossibly detailed footwear; elaborate headgear and sparkles and metallic bling as far as the eye could see - the eye just didn't know where to look at first. It was a good thing that the models inched their way down the runway in those shoes, swaying slightly like the leaning tower of Pisa, so everyone had ample time to take in the entire look from head to toe and then back up to the top again. Those models and Guo Pei's team of seamtresses were the unsung heroes of the night.
A procession was part of the Guo Pei show on October 16 2013. Credit: Fide Fashion Weeks
After the first few mystical looks had their moment in the spotlight - one Thai princess-inspired that included the winged crown headdress and pointy shoes, elevated of course - there came a procession. A Japanese geisha princess was accompanied by three companions, the male models also wore platform clogs. There was a festival mood in the air as she very slowly proceeded.
Spellbinding looks from Guo Pei. Credit: Fide Fashion Weeks
This set the mood for the following characters that were loosely based on royals from history and Guo Pei's imagination. An impressive layered dress that moved like a walking Ming porcelain vase - the fan-shaped headpiece actually featured one such vase in the middle. This was also the same dress that Miss China wore at the 2012 Miss Universe contest and won the "Best National Dress" title.
All hail the Ice Queen! Credit: Fide Fashion Weeks
Mary, Queen of Scots also made an appearance in a skirt the size of a table and a train to match, we suspect that there were rollers attached to the heavy skirt so that it could be mobile. The second last "Royal" was eerily beautiful. An Ice Queen - perhaps from the land of Narnia - with two male companions on each side of her robe that her arms held out like banners. From the crown that looked like a genuine royal jewel, to the detailed embroidery on the robe to every leaf-shaped sequined on the gown, this was an absolute couture masterpiece.
The standing ovation that Guo Pei, who appeared positively diminutive next to the towering models, was well deserved but one wonders just how does a designer top such a spectacle off?
The Guo Pei show took place on October 16 2013 at the Singapore Fashion Week 2013.
3、A Quick Peek at Designers Inducted Into Asian Couture Federation
With FIDé Fashion Week's recent announcement to feature an inaugural gala ball of the Asian Couture Federation (ACF), my interest is piqued and I just have to check out the designers that have been inducted into this organization. ACF has been formed to promote the rich creativity and talent of Asian couture and its designers (similar to the esteemed Chambre Syndicale de la Haute Couture, which protects French Haute Couture). Being Asian-American with design aesthetics that are primarily driven and influenced by my American education, I'm always curious to find out more and study the beautiful works of designers here in Asia as it offers me a broad look at social and cultural trends as well as different perspectives.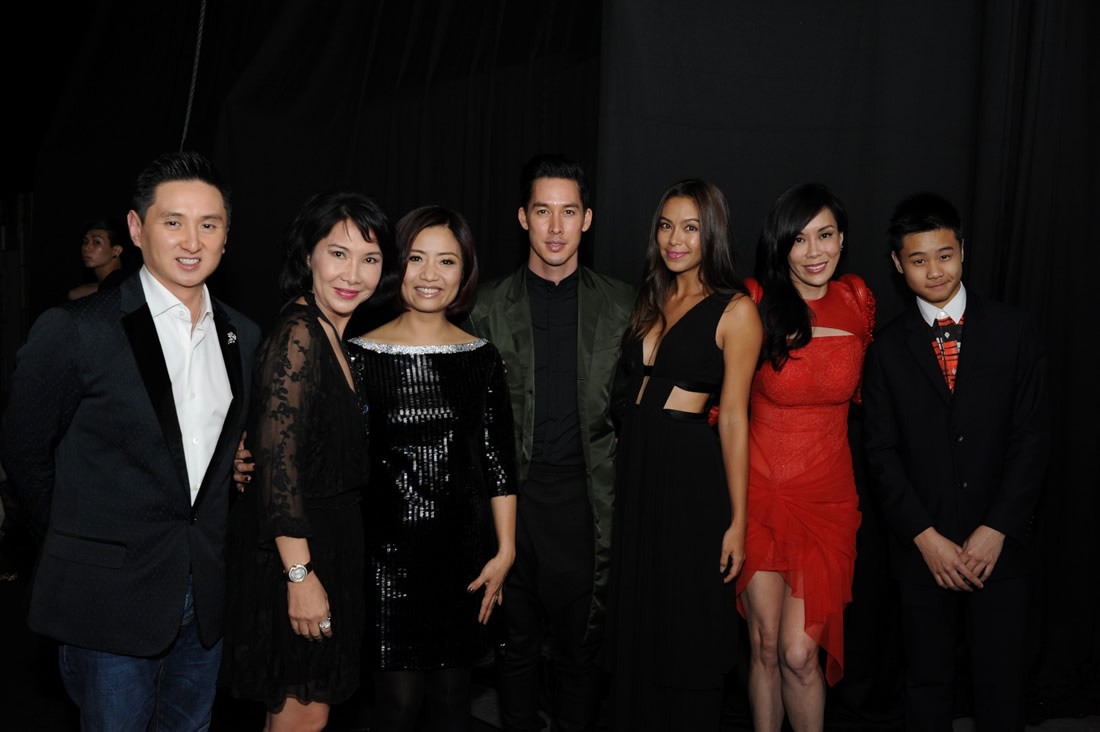 Four of the designers that are currently senior members at the ACF whose work caught my eye. They are: Guo Pei (China), Sebastian Gunawan (Indonesia), Lie Sang Bong (South Korea) and Michael Cinco (Dubai). In particular, I'm seriously frothing at the mouth from the gorgeous bridal designs by Michael Cinco (and I'm nowhere even near "wedding" mode, ie. that feverish mode of hunting for the dress). The superbly over-the-top embroidery and lacework in his designs are seriously drool-inducing and I love *LURV!!!* the art direction and styling of his lookbooks.
Without further ado…
GUO PEI is China's doyenne of haute couture. Her work fuses Chinese and Arabic design elements and a strong sense of luxury. Her designs are bold and extravagant that contain Chinese elements of embroidery and traditional patterns blend with modern influences. They are as much art as fashion.
4、Guo Pei
Nationality : China
Having dressed many biggest Chinese stars and A-listers. Guo Pei is the biggest and most renowned name in China's fashion scene, She has been designing Couture in Beijing through her Atelier "Mei Gui Fang" for many years. Her creations reflect a strong Oriental culture, with a striking mix of classic fantasy and modern avant-garde.
Conceiving and overseeing every outfit, her ideas are turned into reality by over 400 craftsmen, all of whom are trained by the artist herself. Her collections are entirely sewn by hand, with some dresses requiring over 50,000 man-hours before completion. Her last and most notable show, The Legend of the Dragon, which took nearly 3 years of preparation, first showed at Beijing in 2012. She also designed a costume for the Beijing Olympics.
Accolades:
"China's Top 10 Designer" 1995
"China's Tope 5 Designers" 1996/1997
"Award of Famous Chinese Female Who Leads to New Lifestyle" by China Women Organisation, 2007
" The 100 Most Creative People In Business" 2011